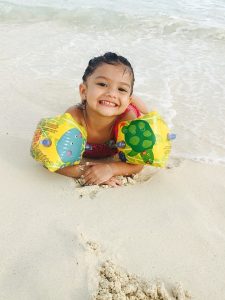 The summer brings an array of carefree times for children. School's out and the word "schedule" doesn't exist. Many kids get to spend their days by the pool or boating on the lake. As a parent, you may have some concerns about having your child spend so much time around the water, which is understandable. Reckless behavior or carelessness around water can be fatal. Drowning is the second leading cause of death in children under the age of 14. As long as safety is a priority, you and your child will be able to enjoy a day in the sun without a hitch. Here are some water safety tips to help ease your concerns.
Adult supervision
Even if your child has had swim lessons, do not assume there is no drowning risk. It only takes 25 seconds for a small child to become submerged, and they can drown in as little as 2 inches of water. If you are the supervising adult, be sure to limit all distractions and give your undivided attention to your child. If you will be in a party environment, assign one adult to be by the water at all times. For small toddlers, an adult must be in the water at an arm's-length away providing what is called, "touch supervision".
It is important that you do not rely on floaties and other water accessories for the safety of your child. If you believe extra protection is needed, a Coast Guard-approved life jacket is the only guaranteed safe flotation device available. Your nearest sporting goods store can assist you in purchasing a vest and making sure it is the right fit for your little one.
Enforce rules
Children have a hard time containing their excitement around water, but it is important that you go over a few ground rules before they go for a swim. At the pool, no running or pushing others into the water is allowed. Diving is only done in areas that are marked as permitted. If your child will be swimming with friends, teach them how to implement the buddy system. Assign each child a "buddy" to keep track of while they are in and around the water. Should they lose sight of their buddy, they must notify an adult immediately.
If you will be having a day at the lake or the beach, make sure your child understands the difference between a pool and an open body of water. Even strong swimmers can get swept away in an undercurrent so warn your child to never go into the water unless a lifeguard is present. Also make them aware of hidden glass, jagged rocks and other debris that tend to be around lakes and other large bodies of water.
Steps for you
More than likely, your worst nightmare is to be in a situation where your child needs help and you aren't able to provide it. Preparation and awareness save lives. Avoid making your nightmare a reality by taking swim lessons if you aren't a strong swimmer and enroll in a CPR certification course. There is no such thing as being "too prepared" when it comes to the safety of your child. Adult swim lessons are typically offered by your local YMCA and CPR certification classes can be taken at a nearby fire department or hospital. Knowing that you are equipped to save the life of your child or others, will grant you immeasurable peace of mind.
Worrying is a natural emotion for a parent because you never want to see your child in harm's way. Rules are in place to provide a safe water experience for everyone. Enforcing these guidelines will allow you to relax more while your little one participates in a timeless pastime!